Writer. Amateur Photographer. Costumer
"It's time to start something new and trust the magic of beginnings"  Meister Eckar
Joanne Van Raaphorst writes under Joanne VanR and is an emerging writer based in Western Sydney, Australia.
She has five flash fiction stories published through Spillwords.com and was long-listed in the Australian Writers Centre's monthly competition – Furious Fiction, in October 2021.
Joanne is a NaNoWriMo winner – 2021 
She is currently writing her Fantasy Sci-fi novel – The Messenger and editing her first manuscript which is a post-pandemic, cosy murder with a dash of Sci-fi called The Changeling.
Joanne has also been an active committee member for the Australian Discworld Conventions since 2014 for Sydney, Adelaide, and Melbourne. She was Vice-chair for Sydney's committee for two years until the crazy people decided she should be Chairperson from 2022.
    She's a keen amateur photographer. One of her photos received a Commended Certificate in 2020 and two were commended in 2021 in the Australian Photography Magazine's Mono Award.
Joanne loves chocolate, tea, wine, her family, and her iPhone for its superb camera qualities.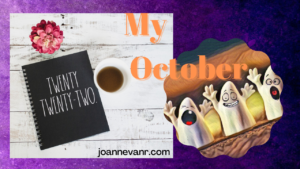 My October and the past few months have been hectic. Let me share the details with you.
Continue reading »
Get news of Joanne's latest posts and stories delivered directly to your inbox