Need inspiration? Need helpful tips? Go along to one of the many writer's festivals – the writer's treasure trove.
On Friday 9th September I attended the BAD Sydney Crime Writers Festival at the State Library, NSW and am so glad I did.
I'd ummed and ahhed about going in the first place. 'Am I over-eager to do all the things?" asked the hesitant part of my brain. I ignored my inner thoughts. I chose two panels – "And Now For Something Completely Slightly Different" and "Page to Screen, Screen to Page" because I had read and/or seen the movie or television series by at least one author on each of those panels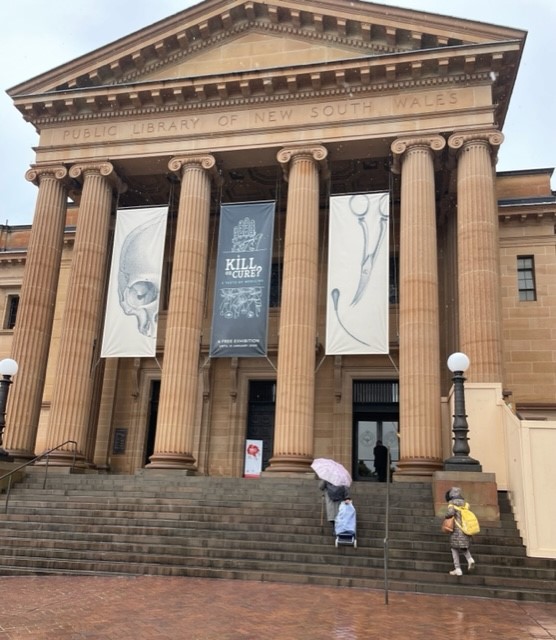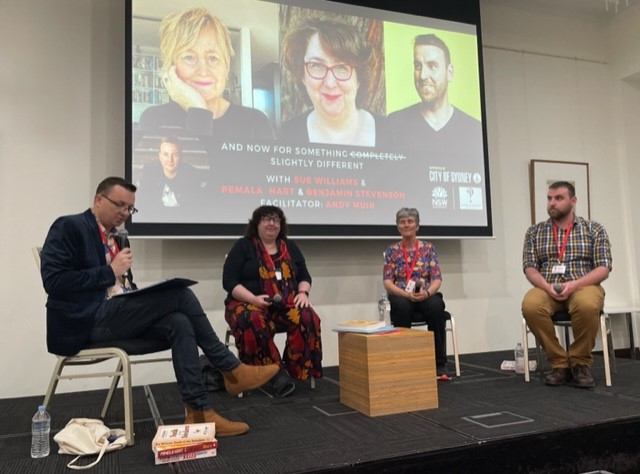 What I took away from the Writers Festival
Both Panels were entertaining. I loved hearing the experiences of Candice Fox and Rosalie Ham whose books were turned into screenplays, and Roger Simpson and Michael Te Arawa Bennett traditionally screenwriters have now written books.
The 'slightly different' panel' with Pamela Hart (aka Pamela Freeman), Sue Williams and Benjamin Stevenson was the reason for my being there and held my attention. These wonderful authors offered many tips, some I hadn't heard before, to include in a "cosy mystery". (An idea for another post – stay tuned.)
Afterwards, at the book signing, I asked Pamela about a scene in my book. How much blood is too much? and certain aspects that would not perhaps fit the genre of 'Cosy Mystery.' On the train ride home I reflected on her answer and the scene. I've now tidied that scene – the blood is still on those shiny white tiles, but not the gory details.
And now I am looking at another scene in the book…does it need to be so descriptive?
I walked away from the BAD Sydney Crime Writers festival with new knowledge and of course, more questions, Oh and if you're ever in Sydney CBD check out the State Library of NSW, it's awesome.
To keep up with what I'm doing, you can follow my posts or let's connect on Facebook, Instagram, or Twitter.
**Links to other sites, not my own, are unsponsored.