May was busy with weekend events with a trip to Melbourne, a weekend of author talks at the Sydney Writers Festival and a night with comedian Ross Noble. Oh, and I wrote a book review and I increased my manuscript's word count.
"May the 4th (be with you)"
Don't sit in the front row, don't arrive late, and don't go to the toilet during the show.
The month began with a night out with friends to see the tears-running-down-my-face funny Ross Noble in action. I've seen Ross on stage before and he did not disappoint. Like a plantser, (a writer who plans some plot points and then writes by the seat of their pants), Ross has his plot line which he follows in a roundabout way – "don't worry I'll get back to it". He has a beginning and an end, with a couple of scenes thrown in just in case and now let's see where the night takes us. He then fills in the rest of the scenes with the help of the audience. A warning, don't sit in the front row, don't arrive late and don't go to the toilet during the show if you don't want any attention.
His style is similar to other comedians, Billy Connolly springs to mind, but it's a brilliant plan. His ability to "spin a yarn" using snippets of others' lives is amazing. He is a gifted and very funny storyteller.
Next, a weekend visit to the city of Melbourne and a never have I done it before activity.
Road trip! Hubby and I enjoyed a lovely four-day weekend in Melbourne. I'd been hankering to go since I started to write my current manuscript. The graffiti art laneways feature in the first chapters. Bonus, are the many choices of cafes in the hidden laneways.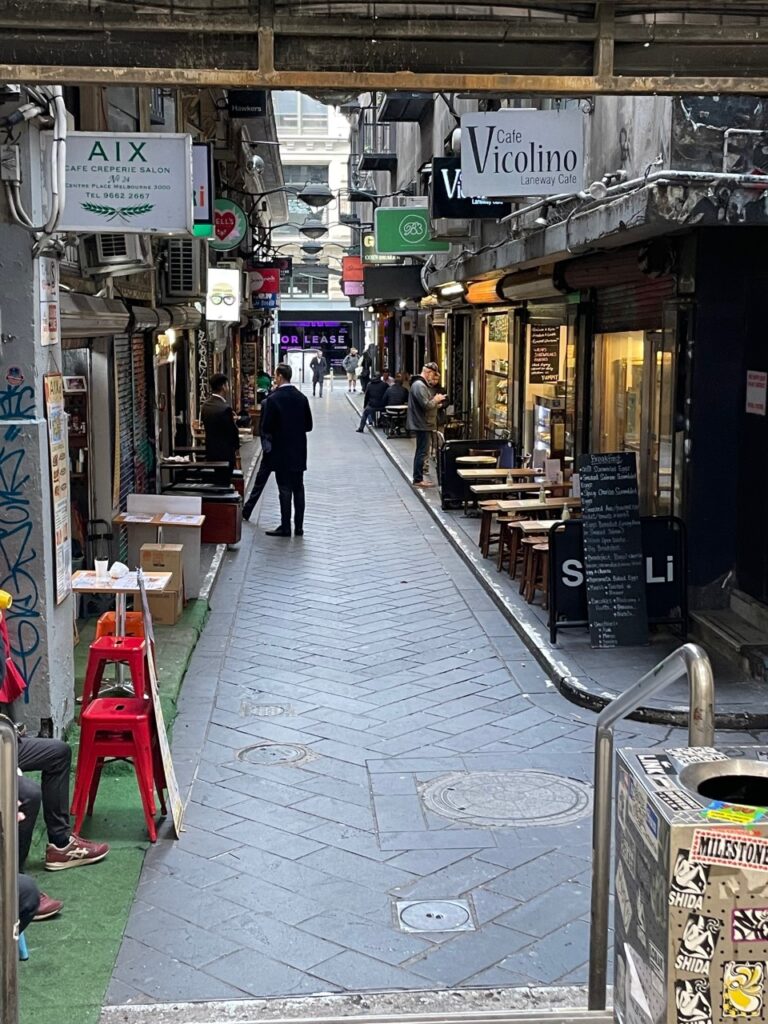 Our weekend in Melbourne included something we'd never done before.
Hubby and I don't follow any football codes. But, when in Melbourne one must at least attend an AFL match at the MCG. We arrived extra early, and by coincidence, today's game was in honour of volunteers in various emergency services. As we wandered through the displays, we came across the Hawthorn mascots and had a photo taken, as you do. The photo prompted our decision to barrack for the Hawks. The Hawks lost to Richmond by the way. But in the meantime, it was a good game and the atmosphere was electric with excitement. And the MCG, wow!

The Sydney Writers Festival – a weekend of rubbing shoulders with writers, authors and more.
Author talks on podcasts and zoom events are inspiring, but the Author talks in person on stage are even better. The Sydney Writers Festival was the perfect opportunity to hear about their books and their writing process.
I enjoyed the Breaking the Lore panel. I missed out on a ticket but a visit to the box office saved the day. The panel consisted of CS Pacat – Dark Rise, Vanessa Len – Only a Monster and Alicia Jasinska – The Midnight Girls. I'm in awe of their talent and wow look at them go!
There is also an opportunity to chat with other attendees while in line to go into a panel or the coffee line or even while walking to the event. For example, I met an editor who edits part-time; a couple who attend random events just because they like something different to do and I met Christine Sykes author of Gough and Me on the walk to the event. I chatted with Christine about her book, and my writing and she passed on a couple of editing tips before we parted ways.
Books
I read it –
Currently Reading –
Writing
The busy month didn't stall writing. I read and wrote a book review post as well as added more words to the book. The manuscript is getting there, but it's steady as she goes. I paused for a week as I sorted through my approach to the major plot point. Then brainstormed Point-of-view ideas as I wrote the scenes in my head. I have moved forward and so far it looks okay – there's always the delete button if not, right? At the end of May, my word count made it to 101434. And I'm still at step 2 as I edit my first manuscript.
Fun Facts
Bibliosmia – The word for loving the smell of old books.
There is something about that smell isn't there? A cosy book store with old books and pouring over the shelves of titles makes for a pleasant afternoon.
The Adventures of Tom Sawyer by Mark Twain is said to be the first book ever written using a typewriter.
I wonder what Mark Twain would think of us using a program like Word or Scrivener to write our books.
These fun facts were posted in 2017 on Yahoo Life – "11 random facts about books that are weirdly interesting."
Well, that was my May. Another trip to Melbourne is planned for the end of the year – the arcades and lanes need to be revisited. I wonder what new thing I have never done before will make itself known.
How's your writing coming along?
What I have never done this before activity have you done recently that rocked your boat?
Stay safe everyone.
*To keep up with what I'm doing, please follow my posts or let's connect on Facebook, Instagram, or Twitter.
*All links not my own are unsponsored.