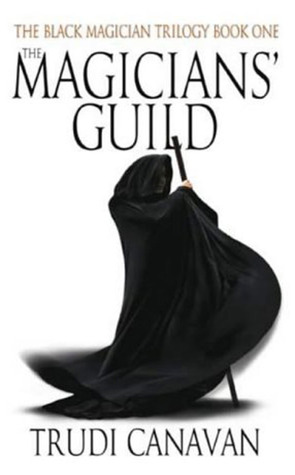 The Magician's Guild, by Trudi Canavan, is the first book of the Black Magician Trilogy.
I loved it.
A young girl, Sonea, is caught up in a protest with her friends against the despised Magician's Guild and casts a stone, breaking through the magician's protective shield, shocking herself and the Magicians. That one action brings the realisation that she too possesses the same magic only the Magicians are permitted to use.
The Guild agrees they must find the girl before her untamed magic grows more powerful. When it becomes clear the Magicians are searching for Sonea, the race is on as her friends seek protection for her within the dangerous underground societies beneath the city. They soon find out it is not only Sonea who needs protection because of her magic.
What I liked about this book –
Trudi Canavan's setting creation. The city of Kyralia includes the inner-city and the slums, where Sonea lives. There are also underground societies and their complex routes of tunnels under the city. The underground dwellers have designed the tunnels and methods to deter breaches in their security. I often had to retrace my steps, so to speak, as I tried to make sense of the direction we took as we travelled with Sonea to safety. I mean that in the best possible way. Then by stark contrast, we read about the majestic buildings within the Guild complex. The detail is exciting and complex.
I liked that various characters have the names of (fictitious) animals. For example, a good friend of Sonea, Cery, is named after a "ceryni – small rodent." Trudi had the task of creating names for her characters, but she also needed to develop animals to name those characters. Ingenious.
What I didn't like-
I thought the search for Sonea dragged on a bit – but that is a minor point.
Overall The Magician's Guild was hard to put down and is a stand alone book.
* * * *